8 Key Elements of a Trade Show Booth Design
Your trade show booth needs to stand out in a very busy, competitive environment. You need to make the most of your space and budget to create a unique booth that will draw attention and speak volumes about your offering. Here are eight key elements of trade show booth design to increase your engagement.
1. Set Goals
Designing a trade show booth takes careful thought and planning. The "what's" are just as important as the "why's." Therefore, you have to start the process by establishing goals. Having a clear focus allows you to design your booth with the right elements. For example, for brand awareness, more effort must go into visuals and perhaps experiential marketing that helps people understand (and remember) what you are about.
If you want to become a thought leader your booth needs the technology for leading-edge visuals and compelling demonstrations that help educate people. Launching a new product requires resources to demo the item or displays to allow people to interact with the item.
2. Create a Welcoming Environment
You can put up all the signs and branding you want, but if your booth isn't a welcoming place where people feel they can gather, take their time, catch their breath, and talk, they will move on quickly. Therefore, you want to incorporate elements that create a people-oriented booth. A reception counter with a friendly face to welcome new arrivals sets the stage for your exhibit. Instead of thinking of your visitors as prospects think of them as guests.
Comfy seating, refreshments, and a casual approach that makes people feel welcome instead of harassed allow people to relax and absorb the features of the booth slowly. Sipping on a good cup of coffee, and munching on a fresh-baked cookie, makes people feel more open. As a result, you can approach them in a more meaningful way. A booth filled with people also generates more interest in passersby.
3. Incorporate Impactful Visuals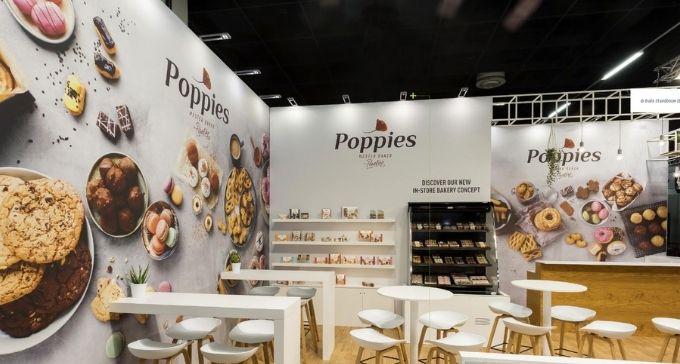 Signage and other visual elements should create an impression with a clear message. Eye-catching designs are important, but they also have to reflect your brand. For example, a back wall design covered with a soaring eagle might be eye-catching, but what does it have to do with your offering? You also want to tell a story.
However, plastering every inch of wall space with a long and complicated story about your mission statement, company culture, and commitment to the environment is just too much information. You need to use impactful, relevant visuals with a clear message tied to your goals to tell a simple story about what you offer.
Some modular trade show booth walls like the beMatrix modular wall system give you the flexibility to add display panels and lighting elements to create maximum visual impact in a minimal space.
4. Create Unity
Having too much going on in a booth can confuse people. You need to choose design elements that work together instead of competing with each other. For example, if you are focused on one on one interactions, having a big screen with aggressive visuals and blaring music will compete with your reps offering demos and discussing your products. Everything should work together to help you meet your goals.
5. Include Reusable, Scalable Elements
Since budget is usually top of mind, your trade show booth design should include reusable elements you can take from trade show to trade show. A wall system specifically made for booth design such as beMatrix allows for more flexibility and easy customization of your booth year after year.
The system uses a series of frames, panels, lightboxes, LEDskins, and accessories allowing you to include the elements that work for your needs. They offer easy assembly without tools and are extremely stable. You can use a flexible design allowing you to adjust the booth to the space and event. They are easy to transport, install and store, so even if you don't need them every year, it's there when you need them. Better yet, it is completely adaptable allowing you to add or remove elements from your booth at any time.
Learn more about the beMatrix system.
6. Optimize Visual Space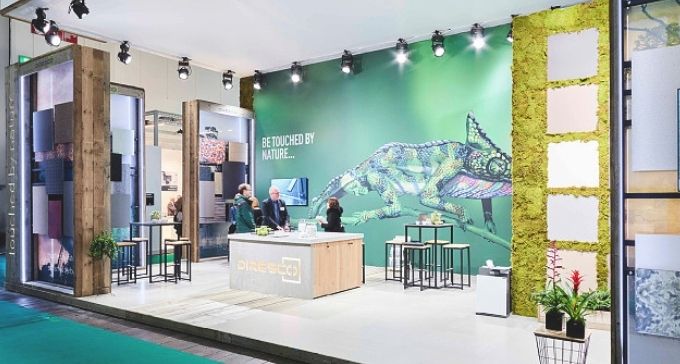 Make sure you consider the visual space to optimize your presence and messaging. The back wall tends to be prime real estate in a trade show booth, so this is the spot for your key messaging and design elements.
The larger your booth, the more opportunity there is to leverage your messaging. However, it is also easy to ruin a larger space by failing to create a focal point. Repetitive designs often work in large spaces, as long as they are not too close together. You can also create specific messages along the back wall, with different graphics and intriguing headings that say something meaningful about your brand.
7. Leverage Lighting
Systems like beMatrix make it easy to introduce light into your booth design. Lightboxes add brilliance to your design and a level of sophistication. Backlighting combined with fabric or panel signs is very effective, to draw attention to graphics while also flooding your booth with a warm glow.
Other lighting elements such as spotlights and LED accent lighting like SAM Light can be used to draw attention to displays, seating, or exhibits in your booth. The trick is to layer your lighting to create intimacy, brilliance, drama, or warmth.
8. Comfortable Flooring
Both your team and your guests will be on their feet all day. Installing comfortable flooring in your booth makes a world of difference, even though people might not even realize it. However, flooring can not only be comfortable but also add a noticeable design element.
Whether it is your brand logo, a message, or colours to support your brand, floors offer just as much branding space as your walls. Don't waste it!
Be Trade Show Booth Design Savvy
If you are in need of a trade show booth, you may decide to purchase items such as beMatrix modular walls that you can reuse and customize as many times as you want year after year. As for furnishings, perhaps renting sofas, tables and stools is the best option for you? The ultimate goal is to create a winning trade show booth design that will not only respect your budget but will also allow you to achieve your marketing and sales objectives.
At Hunter Expositions, you are guaranteed to find all the key elements that will allow you to create a booth that will meet your needs and respect your budget. We offer portable wall purchase and rental, furniture rental, complete custom trade show booth design services, and graphic design to enhance your brand.
For more information on our services and equipment dedicated to trade show displays and booth designs, please contact Hunter Exposition.
———————-
Main image source: beMatrix – La sport grandeur nature Stand by La Sphère, Foire de Nice