Mila-wall®: Your Flexible Museum Exhibit Walls
If your museum or gallery strives to bring new exhibits to your members and visitors each year you know the struggles of manageable exhibit designs. The requirements of each exhibit can vary drastically, making it difficult to find affordable solutions. You need to maintain the integrity of the objects on display, while also remaining true to the design of your overall space.
While you might think moveable exhibit walls lack aesthetic appeal, the Mila-wall® system is both flexible and sophisticated. Its unique design is used in museums and galleries around the world, as well as for special art installations in buildings such as the new World Trade Center in Manhattan.
What is Mila-wall®?
Mila-wall® is a flexible and sturdy moveable wall system that allows you to create suitable environments for your changing exhibits. They are designed to optimize space, providing valuable display square footage while also adding separation and flow to your galleries.
They are aesthetically pleasing, offering a very substantial presence much like a permanent element of the gallery. As a result, your museum maintains a high level of sophistication. The aluminum frame stabilizes the wall while also protecting the edges from damage. If your museum exhibits are heavy, you can choose walls with solid wood blocking for added stability.
A honeycomb core is ideal for displays requiring nails to support installation and comes in either 40mm or 60mm thickness. From a design standpoint, exhibit designers enjoy a sense of autonomy. They can use the modular design and accessories to create an unexpected element that adds to the aesthetics of the museum.
How the
Mila-wall®
Moveable Exhibit Wall System Works
The Mila-wall® system offers endless design possibilities allowing you to choose the configuration that works for the intended location and application. Using rigid frames and attractive walls, the easy-to-assemble system is lightweight thanks to the honeycomb core. Walls can be assembled with just two people. Their patented connection technology is jointless, using a modular construction technique for quick assembly.
A lever roller allows you to lift one wall and then lower it into the adjoining walls' tongue and groove connection. As the exhibits change the walls can be moved as they are or dismantled and reconfigured providing complete flexibility. Angled connectors, and stabilizing feet ensure the walls remain in place, yet are easy to move as required. If the floors aren't level the feet are adjustable to avoid wobbling. They come apart for easy storage when the wall is not in use.
Demo Mila-wall Serie 100 Kubus Video
Benefits of Using Mila-wall®
There are several benefits to considering the purchase of a movable exhibit wall system such as Mila-wall. Here are the top four reasons why you should consider this solution.
1. Cost Saving Solution
When you are looking for cost savings in your museum exhibit designs, nothing could be more affordable than the Mila-wall® system. The DIY assembly makes it easy to install and remove the walls with minimum labour costs, or the need for contractors.
Whether you are installing them or dismantling them, you only worry about the initial cost of the wall and then use it when and where it is needed. You can easily add to your modular walls without permits, contractors, or messy installation. You also have minimal disruption to the rest of the museum during installation.
2. Acoustic Improvements
The sounds in museum galleries can carry far, often ruining the visitor experience. From clicking heels to murmuring voices, and laughter to unruly class trips, museums can become an echoing nightmare.
The sound-absorbing exhibition walls from the Mila-wall series offer noticeable acoustic improvements by reducing reverberation. This helps dull the echoing effects of hardwood, stone, and marble floors in massive galleries where every sound is enhanced. Visitors can enjoy the displays without distraction.
3. Quick and Easy Lift and Drop Installation
The modular construction of the Mila-wall system makes wall assembly easy, quick, and creative. Using tongue and groove technology, each wall can simply be lifted and dropped into the adjacent wall. A "peg" is attached to each unit and a hole on the adjacent wall secures the fit. Installers simply lift the wall and insert the peg into the hole. The Mila-wall 100 and 160 series panels can easily be stacked up to 20 feet high for large-scale displays.
4. Customizable Modular Wall System
The Mila-wall® moveable wall panel system is a unique de-mountable and paintable wall that you can also nail into. The system also offers the option to add lighting for ambiance or to enhance the items on display.
You can also choose from an assortment of over 175 films that can be applied temporarily or permanently. This provides even more design options allowing you to use colour and texture to accent your exhibits. Architects, exhibit planners, and interior designers love this option, although the basic white of the walls is also very popular in galleries and museums.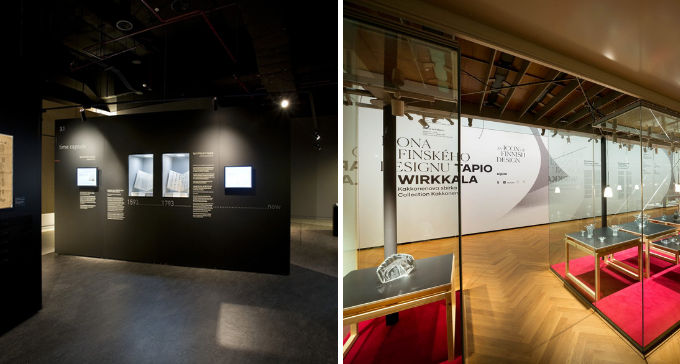 Image source: MBA Worldwide – Facebook
If you're looking for a more interactive display, you can share information about the exhibits, the story of how the objects came to arrive at your museum, and more by applying text and design elements directly to the walls.
The exhibit walls can also be used to help direct people to various exhibits throughout the museum and even manage crowds to improve flow through the museum. If you have an exhibit under construction, the walls can also be installed to block off the area. A message announcing the completion date and name of the exhibit helps create interest.
Mila-Walls, A World-Call Solution For Your Next Exhibit
When you are looking for a world-class moveable wall solution to maintain the look and sophistication of your museum, nothing is simpler or more attractive than Mila-wall® Movable Walls. Hunter Exposition also offers museum-quality display cases and graphic services to help you make your exhibit even more interesting and successful.
Discover our Movable Wall System by Mila-wall® and contact us to get a free consultation or get more information about our museum and galleries solutions.
---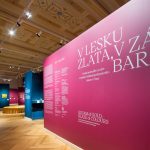 Main image source: MBA Worldwide – On Facebook, "Gleam of Gold, Blaze of Colors" Exposition at the Museum of Decorative Arts In Prague, The Museum of Decorative Arts in Prague opened an exhibition of reverse glass painting works compiled almost entirely from its own collections shortly before the museum's temporary closure in spring 2020.