3 Things to Consider When Planning Your Next Trade Show Event
Post-COVID demand increases have led to delays in procuring materials needed for exhibitions. In turn, this has generated price increases that may continue into 2023. Two-thirds of suppliers said they expect to keep adding surcharges through this period to cover the cost increases, according to an Exhibitor magazine and would likely flow this through to exhibitors as a price hike of up to 25%.
During the pandemic, many events went online to avoid spreading the coronavirus. However, despite the extra cost, trade show exhibitors responding to the Exhibitor survey say that in-person events had a greater impact than online ones.
For exhibitors, increased demand, labor shortages, difficult access to transportation, and high pump prices result in additional costs and delays for material delivery. Added to these costs is the potential increase in travel expenses such as accommodations, restaurants, airfares and car rentals. At the same time, attendance at trade shows continues to remain subdued and exhibitors are looking for ways to prevent losses.
3 Key Factors Impacting Your Trade Show Event Planning
There are at least three factors to consider when planning and budgeting for your next trade show attendance. These factors will have an impact from the design of your booth to its delivery at the event.
1. Longer Turnaround Times from Exhibit Providers
Expect increases in time and labour as well as wrinkles in the supply chain that may cause delays in getting materials and procuring installers for each trade show. Include these factors in your trade show event planning.
Time & Labour
Many companies had to lay off or furlough some employees during the pandemic. This has caused a shortage of skilled employees, from designers to warehouse workers and installers. Due to understaffing, the industry will continue to experience delays until new staff is hired and trained. However, as demand and confidence pick up, this trend should gradually fade.
What can you do to get the help you need when you need it? Plan and commit to your projects in advance to allow more time for booth design, build, delivery and set-up. If you have favourite exhibit partners, coordinate with them as early as possible to ensure their availability and to work out the associated logistics.
Supply Chain & Logistics
From backups at shipping ports to a lack of drivers to transport your tradeshow equipment and components, there are many challenges that come with trade show planning this year and most probably beginning of next year. The more elaborate your trade show booth, the more advanced planning you need to handle any supply chain snags you encounter.
Exhibit houses face the same pressure as many industries regarding raw materials, such as those used to bring your exhibit to life. Fancy hardware and special finishes require advanced planning. Additionally, if you have a lot of customization, it may make more sense to purchase than rent. You'll need to consider warehouse storage and other logistics as part of your trade show event planning.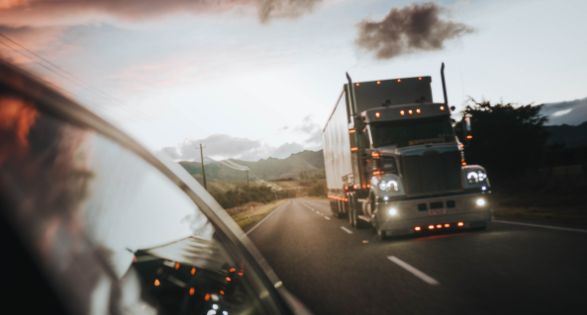 2. Transportation & Shipping Costs
More than ever, transportation is an important element to consider when planning your trade show booth design. Critical steps such as construction and delivery of your booth are directly affected by transportation.
Longer Delivery Time
What are the transportation challenges currently impacting supply chain management in Quebec and throughout Canada and the United States?
Fewer available trucks, drivers and trailers
Overseas container shortages
Line ups of ships at the larger ports
Increased online shopping and home deliveries
It's the reality of current trade show planning. You're competing for limited resources to get your materials delivered to trade shows on time. Planning ahead and scheduling shipments a few days in advance to account for any "enroute" contingencies are just a few examples of things you can do to minimize the impact of transportation delays, including remaining patient as things slowly but surely return to normal.
Fuel Prices and Higher Shipping Cost
Skyrocketing fuel prices impact the cost of shipping and materials for your trade show booth. Unfortunately, this is complicated by container and trailer shortages due to high demand coupled with lower capacity in supply chains throughout Canada and around the world.
Unfortunately, no one can control the price of fuel. Budgeting for unexpected additional transportation costs and reducing the size of your booth to limit the amount of material you need to ship are simple ways to better control transportation costs.
3. On Site Labour Shortages and Costs
Oddly enough, prices haven't changed all that much over the past two years for on-site labour to install your trade show booth. However, it takes a certain knack and training to get the hang of trade show installations. Unfortunately, many of those with this skill set have either left the industry or retired. Combined with the overall labour shortage, this presents a unique challenge for trade show planning.
How to Cope with Increasing Time and Costs
When it comes to planning your next trade show, there are several options available to you to help offset the increased costs and delays that can affect the planning of your trade show booth.
Making the Most of What You Have on Hand
Like others in the industry, you may want to exhibit caution when it comes to getting back into the groove of trade show events. Ask yourself whether renting or reusing components can help you save costs.
In general, you can reuse graphics for up to two years, and you can repurpose purchased or rented furniture for many trade shows.
It is important to inspect any components you do order to ensure they haven't been damaged in transit. Additionally, if you have purchased installation components in the past, make sure that they are in good condition and reusable. When your booth components arrive at the show, carefully inspect them for signs of damage or any missing components. Both strategies can help you avoid on-site repairs which can break the budget and disrupt attendees, who may simply avoid your booth while the repairs take place.
If you are going to reuse a kiosk or parts of a kiosk used prior to COVID or if you need to order new components, it is important to inspect all of them to make sure they have not been damaged in transit. Once the components are delivered to the event site, inspect them carefully for signs of damage or missing components. These strategies can help you avoid costly repairs during the show that could potentially scare away potential customers.
Before reusing any components directly related to your branding, ask yourself the following questions:
Has the tagline changed?
Does the logo look good, without faded colours or signs of wear?
Do the brand colours match your current branding?
Are the message and graphics still valid?

Work with a Multi-Faceted Exhibit House
Fortunately, some exhibit houses, like Hunter Expositions, provide custom trade show booth design services with plenty of alternatives to help counteract increases in time and costs. You can save money using cost-effective yet impressive trade show solutions like clever portable systems that you can buy or rent. BeMatrix is one of these modular trades show booth solutions that offers plenty of options you can buy or rent.
Here are two ways you can save money:
Create a smaller trade show booth: You would never want attendees to feel cramped or uncomfortable in your booth. However, with attendance low, you can reduce the size of your booth without crowding participants. A smaller booth equates to less equipment, walls, furniture, and other components. Depending on whether you buy or rent, you can always expand your booth in the future. Plus, going lighter will also help keep transportation and set up costs down.
Rent vs. Buy: You can often adjust the theme of your trade show installation to include rented equipment. If you have downsized your trade show schedule, this could be much cheaper than purchasing a booth, transporting it to different shows, and paying for a team to set it up.
Whether you choose to rent or buy, we can help you find cost-effective, hassle-free solutions. Hunter Expositions handles all your trade show event planning within your budget. Here are just a few of the components we provide to new and current clients:
Reach out to our team for assistance with building your brand into every component of your trade show booth. Our rentals and customized solutions combined with trade show event planning services give your internal team the time to focus on marketing and running the event.
Food for Thought to Ensure Efficient Trade Show Planning
Reusing components, renting, going with a smaller booth, and many other ideas discussed above can help you keep your trade show costs within reason.
Have questions? We can help you get ready for trade shows in Quebec, Canada and the United States and better understand what to expect in the coming year. At Hunter Expositions, we know the ins and outs of trade show logistics. Book a free consultation today to better understand how our products and services can add value to your trade show event planning and execution.