5 Common Trade Show Booth Types with Pros and Cons
The competition at trade shows is tough. When you invest in a trade show to help you meet your business goals, you need to give careful thought to how you represent your brand. You need to set yourself apart yet limit your costs so you can see a better ROI. Your trade show booth is a good place to start, but there are a lot more booth options than you might think. Here we look at the pros and cons of the most common types of trade show booths to help you choose the best one for your needs.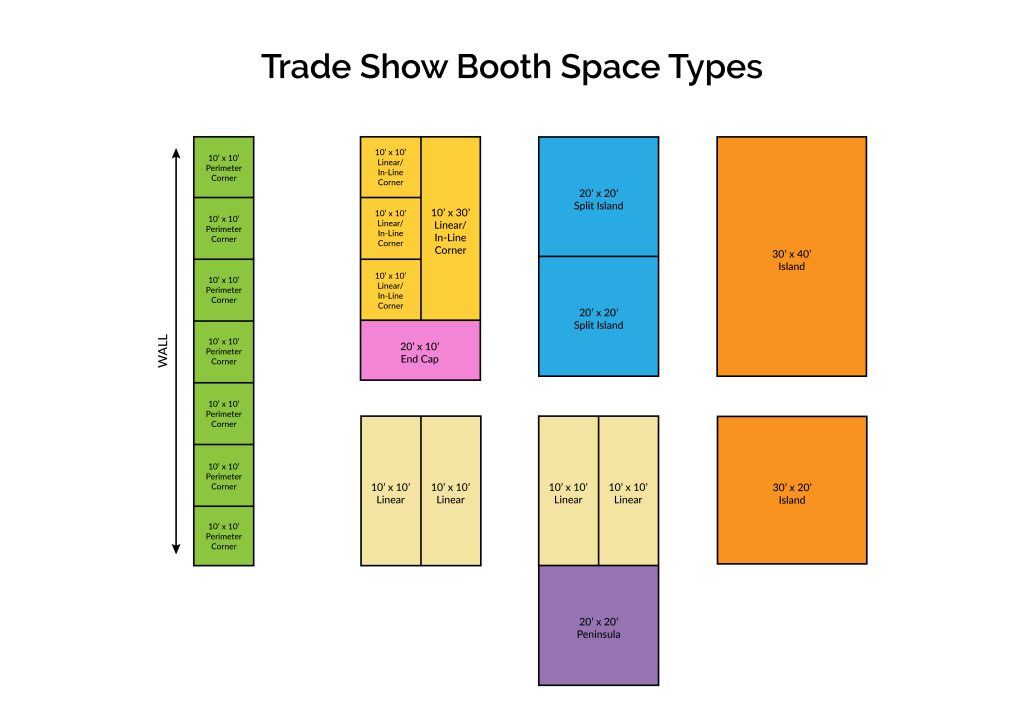 1. In-line Booth (1 side open)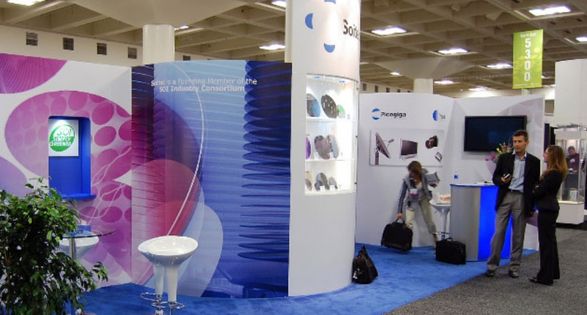 The inline booth, also known as a linear booth, is the most popular and affordable type of trade show booth. It is designed to sit side by side with other booths along the trade show's aisles. It has a single open side and tends to come in standard sizes of 10 x 10 ft. to suit the standard footprint for a single space or 10 x 20 ft. for a double space.
One of the best things about the in-line booth is you can combine them to fit the size of the space you rent. For example, if this is your first trade show, you can invest in the smaller size, and then if the event is successful, invest in renting additional booth space the following year to expand your presence.
Pros of In-line Booths
Cost-effective
Scalable, allowing you to increase the size or downsize depending on the event
Can be adapted as part of other booth styles to create different configurations
Simple setup
Can be managed by just one or two people
Cons of In-line Booths
Does not stand out against larger competitor displays as it can only be positioned in an aisle
Provides limited accommodation for signs
Limited height of 8 ft. on one or all walls – thus reducing the amount of visible space for brand support.
2. Corner Booth (2 sides open)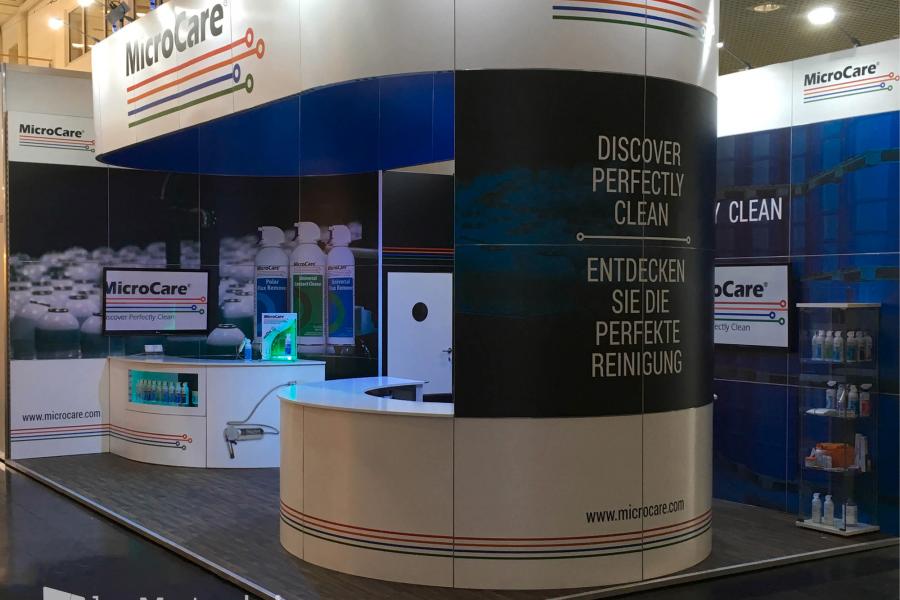 Image source: beMatrix
A corner booth is actually just a linear booth located at the end of an aisle of in-line booths. As the name implies, the corner booth is designed to create a "corner" to accommodate the crossroads at two aisles. As a result, it is more prominent, providing two sides for visitors to approach you. Corner booths attract more visitors and create a more intimate feeling.
Pros of Corner Booths
More dominance
Better coverage for increased messaging, displays, and signage
Serves twice as many visitors
Creates an open and inviting booth, but also feels more intimate for visitors browsing your display
Is a good compromise between in-line booths and larger booths at a reasonable price
Cons of Corner Booths
Is a bit more expensive than a basic inline booth
Slightly more set-up time
Usually requires more staff to man the booth
There can be limitations on one or both side walls
3. Peninsula Booth (3 sides open)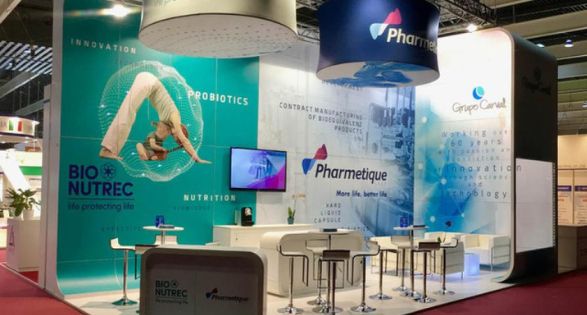 Image source: beMatrix
Among the types of trade show booths are also peninsula booths. These booths are designed to span three aisles, providing three outward-facing areas for visitors to approach. While the corner booth takes up a corner covering two aisles, the peninsula booth is double the width, so it also reaches the aisle on the other side. This configuration provides far more exposure, often covering three to four times more space than a linear booth.
You can reach three aisles of foot traffic, increasing your chances of attracting more visitors. Peninsulas provide more exhibition space, and it is not uncommon for exhibitors to create multi-story structures. You can get far more creative and share even more information with detailed displays to help ease more qualified prospects into your sales funnel. There are three different types of peninsula booths:
1. End cap – Small booth space at the end of two in-line booths (typically 20' x 10')
2. Peninsula – Medium booth space with two linear booths behind (typically 20' x 20')
3. Split-Island – Large with one booth behind (30′ x 20′ or larger space)
Pros of Peninsula Booths
Three to four times more space for amazing displays and graphics
Three times more exposure to passing traffic
Prominent positioning
Depending on the type, offers more creative capabilities
Cons of Peninsula Booths
More expensive booth
More expensive space needed at the venue
More staff required to man the booth
More complicated, time-consuming setup
4. Island Booth (4 sides open)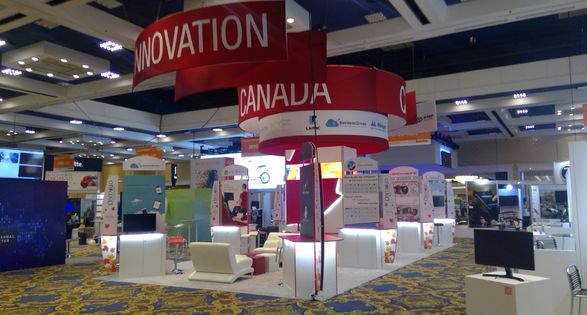 The island booth is your premium, top-notch booth standing on its own with full exposure to visitors from all four sides. The pure scope and configuration of the booth create a welcoming space where visitors can step in and interact with your staff as well as your displays. As a result, you create a far more engaging, interactive experience. Because of the stand-alone design, visitors also feel more separate from the show, so you create your own micro-event. By entering the booth, visitors are less concerned about passers-by or distractions from your neighbours.
Pros of Island Booths
Large enough to invite a major partner to sponsor the booth or split the costs
Creates a real presence even in busy, competitive trade shows
Allows visitors to interact in a more meaningful way with your brand
Endless possibilities to create emergent experiences
Cons of Island Booths
Highest price for the booth design
More difficult to set up
Requires a large team to manage traffic
Requires ultra-premium venue footprint, which is costly and often harder to secure
5. Perimeter Booth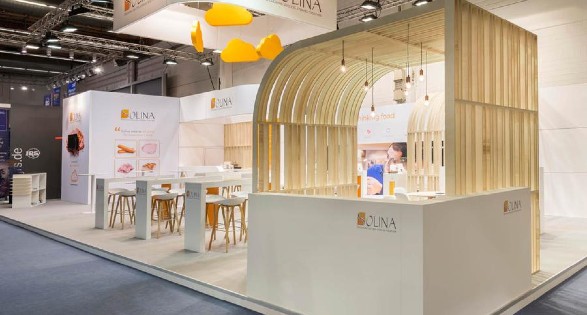 Image source: beMatrix
These booths are designed for perimeter trade show spots backed up against a permanent wall. Although they can be restrictive compared to island or peninsula booths, they often allow you to gain more height depending on the trade show venue. As a result, you can create a distinct presence to help you stand out despite being off to the side.
Pros of Perimeter Booths
You can often gain more height than you would with a linear booth
Easy to set up
Smaller booths require less staff
Cons of Perimeter Booths
You will be located on the perimeter of the trade show, which can feel like you are not part of the action
Conclusion
The types of trade show booths you choose are usually driven by budget. Lower budgets tend to find you either in an aisle or on an outer wall calling for smaller, simpler booths like perimeter or in-line booths. On the other hand, bigger budgets allow you to expand your choices for more prominent, larger footprints at the venue.
Understanding the pros and cons of each booth and how you can use them to create more impact also helps you make the right decision. Trade show booth types are the foundation of your display, but your marketing team or booth designer can help you create a custom trade show booth design that will attract visitors to your exhibit.
Hunter Expositions can help you design your exhibit booth, no matter the shape of your space and your budget. We carry beMatrix and ExpoProfile products that allow for both flexibility and creativity. Contact us to learn more about our turnkey tradeshow services and our purchase and booth rental options.
---
Main article image from beMatrix