Portable Wall Systems for Your Small Exhibits
Setting up a small exhibition can be a complex undertaking if you don't have the financial and physical resources to see it through. Among the essential physical resources is the use of portable wall systems to present the objects and artworks to be exhibited. 
But did you know that there are several types of portable or modular wall systems and solutions that can help you stay within your budget and maximize your resources? Whether you're organizing a small, captivating art exhibition in your school or a public venue, portable wall systems offer unparalleled flexibility for your design and presentation requirements. Let's look at some of the solutions available, from the most affordable to the most versatile for exhibitions.
Solution #1: Renting a Portable Wall System
As an exhibit organizer, purchasing portable exhibition walls may not be the right solution for you if you have a limited budget and organize an event lasting just a few days, once or twice a year. It's certainly not worth the expense not only of the initial wall system purchase but also of storing and transporting your portable walls.
Fortunately, there's an easy, economical solution that offers affordability, flexibility and quality: rental. Rental wall systems, such as beMatrix panels, are designed specifically for exhibitors like you who are looking for a temporary solution for small, one-off or ephemeral displays. 
This hassle-free alternative allows you to maximize the value of your investment while minimizing costs. With rental, you can enjoy the convenience of hassle-free delivery, quick and easy installation and dismantling, and greater versatility in creating unique experiences. With a rental portable wall system, you can showcase your objects and artwork in style, without the added burden of ownership.
Solution #2: Purchasing Scenario Modular Walls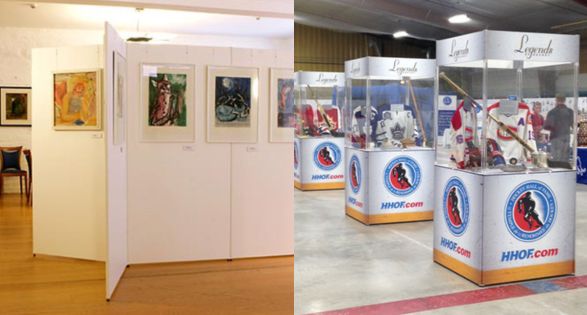 The Scenario modular wall system provides an innovative and affordable framework you can rely on to bring your vision to life. Functioning as a neutral backdrop for small and large exhibits alike, the wall system is tastefully minimalistic in design to allow your exhibit to take center focus. Developed with budget, convenience and versatility in mind, the Scenario modular wall system is the perfect economical solution if you are looking for a variety of creative possibilities and a hassle-free experience.
Here are some additional benefits of Scenario:
Quick installation:

Setting up the Scenario modular wall system is fast. You can spend less time installing your exhibit and more time focusing on creative presentations.

Easy assembly:

The Scenario wall system boasts user-friendly wall technology that simplifies the installation and design process. No tools, training or handy skills required. The only component you need is the thermoplastic peg connector, which makes assembly effortless and straightforward.

Highly configurable:

You can set up

these portable walls side by side, up and down or on top of each other. In addition to its stackable advantage, the design possibilities are endless, as you can configure the walls at any angle between 0 and 360 degrees. 

Endlessly customizable:

Adaptability is key when it comes to creative exhibits, and the

Scenario modular wall system

delivers. You can easily modify, decorate, and accessorize to suit your specific needs. Exhibitors use lighting systems, picture hooks and hangers, doors, and more, to create stunning displays.

Very durable:

Built to last, Scenario modular walls are constructed with a strong honeycomb core, ensuring durability and stability. You can reuse them multiple times without compromising their quality and sturdiness, making them a reliable and long-lasting display solution.
Learn more about Scenario modular wall system.
Solution #3: Purchasing beMatrix's Flexible Modular Solution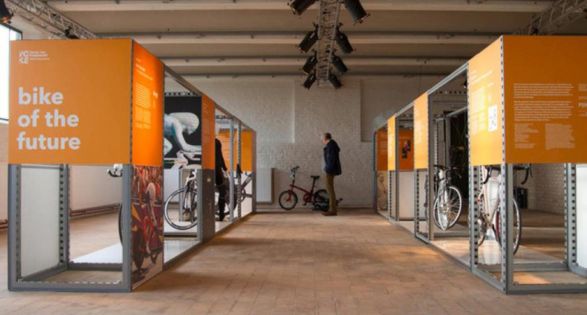 Image Source: beMatrix
Wall systems play a critical role in creating unique art exhibits. Meeting the ever-changing demands of the art world requires adaptable solutions that simplify the staging process. More comprehensive than Scenario, buying beMatrix modular panels offers a range of features designed to meet more demanding requirements. Among these key features you'll find:
Original Frame Systems

– Distinct to the beMatrix brand, the original frame system features large holes around the perimeter of the frame that make it easy to connect two aluminum frames as well as mount panels and textiles using toolless connectors.

Toolless Finishing Options

– These modular walls can be customized to seamlessly integrate lighting solutions, such as lightboxes for dynamic effects or LEDskin AV solutions for visual and motion effects into your art installation design.

Versatile Exhibit Concepts

– beMatrix offers equally diverse frames (straight, curve or corner) and infill panel options (custom materials, custom graphics, paintable surfaces) to adapt to the changing demands and requirements of each art installation. 

Seamless Fabric Concept

– A design technique used to ensure that the aluminum frame remains discreet, beMatrix offers cohesive display solutions that flow with any space. The wall is formed by stretching fabric across multiple panels and finishing it off with silicone edges. 

Reusable Design

– The sturdy aluminum frame serves as a reliable foundation for reusability. An alternative to single-use display solutions, you simply need to swap out the panel attachments as needed and your beMatrix walls are ready for the next event. beMatrix walls offer a sustainable approach that minimizes waste and can last for up to 20 years.

Customization Options

– beMatrix modular walls are designed to create immersive, full-room experiences by integrating ceilings, floors, and walls at any size or angle.
A quick note: beMatrix panels are also ideal for creating trade show booths, an option that can be useful for certain types of companies and organizations.
Learn more about beMatrix system
Solution #4: Buying Mila-walls Portable Wall System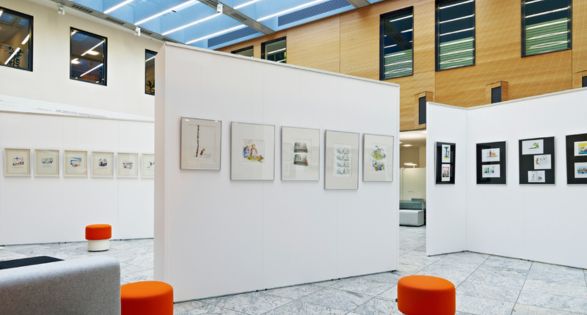 Image source: Mila-wall World
If you present several small exhibitions a year, have a larger budget and are looking for maximum flexibility, the Mila-wall movable wall system is probably the best solution for you. Designed primarily for museums and galleries, these walls are easy to configure and assemble and are made from top-quality materials for maximum durability. Other unique features of Mila-wall movable wall system include:
Nailable Walls

: Mila-wall offers a nailable surface that lets you display art effortlessly. With the capacity to hold up to 47 lbs on a single screw, even the heaviest artwork can be securely and easily showcased.

Durable and Sustainable

: Designed to bear significant weight and usage, Mila-wall system can be endlessly repurposed.  The walls can be painted and repaired, ensuring they stand the test of time. This flexibility allows you to adapt the walls to your evolving design vision and serve multiple types of exhibitions, making the most of your investment.

Easy Assembly and Disassembly

: With the handy Lever Roller tool, setting up and dismantling the Mila-wall system is quick and efficient, no matter the space. Lightweight and economical in design, it is easy to install the system in any space without a time and labor-intensive process.

Surface Coverings

: Mila-wall surface covers are an easy way of introducing texture or print into your exhibit, showcasing your individual flair and aesthetic vision.

A Range of Accessory Options

: Additions such as doors, windows, picture-hanging accessories, angled connectors, or lighting systems allow you to create a custom experience for the audience and attendees. 
Learn more about the Mila-wall movable wall system
Select the Best Portable Wall Systems for Your Exhibits 
With a fast-growing need for sustainable practices, more organizations and individuals are adopting the approach to Reuse, Repurpose, and Recycle. Portable wall systems are masterfully constructed to transform the once resource-intensive staging process into a long-term sustainable solution.
Creating memorable experiences is easy with portable wall systems brought to you by Scenario, beMatrix, and Mila-wall. Each system offers unique features; however, they all work towards the common goal of eliminating the stress of complicated setups and providing rentable, versatile, and durable display solutions to accommodate diverse staging requirements. 
Still trying to decide which wall system would best suit your organization's or company's needs? At Hunter Expositions, we know all about portable wall systems. You can count on us to analyze your needs and propose the best system, whether it is a movable wall system or modular wall system, that will meet your immediate needs, but also your future ones, while respecting your budget. 
Contact us for more information on our products.
*Main image source: Mila-Wall World
Further readings