Light Boxes: Make Your Trade Show Booth Shine
It takes creativity, as well as a lot of time and energy to create an attractive, successful exhibit booth. Therefore, it's important to take all the necessary factors into consideration. Do you want to generate interest at a large trade show and make it easy for customers to find you? You can bring your trade show booth to life with a light box display that enhances your brand and attracts participants. Consider LED light box displays that integrate easily to your exhibit design or function as an eye-catching standalone unit.
Exhibiting your products and services at a tradeshow can help you generate leads, accomplish profitable sales, and create buzz around new products. It's important to present a well-designed booth that will prominently display your logos, graphics, and messaging. Keep reading to learn how a backlit trade show display presents a unique, affordable, and effective alternative for your custom trade show booth design.
What Is a Light Box Display?
Lightboxes feature LED technology to illuminate fabric graphics held within a frame. You can use them to emphasize or add dramatic impact to your graphics, especially in low ambient lighting. beMatrix is a trusted brand offering single or double-sided lightboxes that align well with the display needs of all types of products and industries.
It's important to evaluate both wall-mounted displays and standalone elements to decide which ones work best for your tradeshow presentation strategy.
Why Use Light Box Displays?
Light box displays are calibrated using brightness and color settings that enrich your graphics and create a consistent look across multiple tradeshows and other events.
Using an LED light box can save you time and money. If you decide to change your graphics, all you need to do is take out the current fabric and install the new one. This makes light boxes a great solution for tradeshows featuring promotion-specific or seasonal products. Cost-effective and portable, they're ideal for creating memorable trade show exhibits.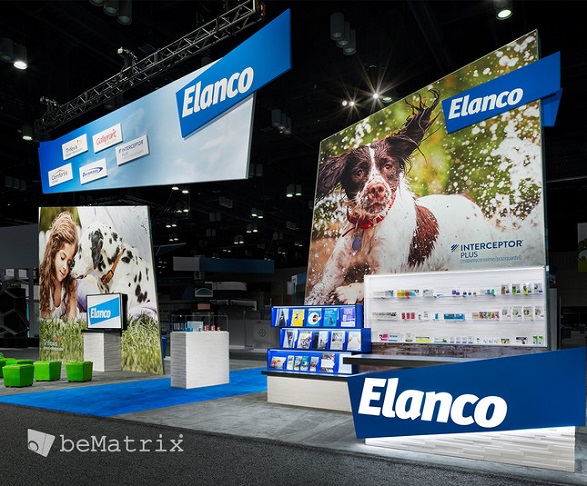 Image source: Elanco Booth with light boxes, NAVC 2017, beMatrix USA
Here are the top reasons to choose backlit trade show displays:
Make your exhibit stand out among others. If you want to draw attention to your exhibit, adding lightboxes is a great idea. They convey important information and attract potential clients. Light box displays also make it easy for showgoers to see your products and branding from a distance.
Add a stunning visual element. When you use bright colors on backlit graphics, you'll attract participants to your booth. Additionally, integrated and standalone lightboxes help you make the most of your trade show booth layout.
Make graphics easily visible. Whether you choose to go with a backlit wall or an illuminated standalone LED light box, your graphics will have a stronger impact on your target audience. Highlight your brand at busy trade shows while making your booth feel welcoming and uniquely attractive.
Present a professional image. Incorporate your brand story into your fabric or panel graphics and use your lightbox display to create a strong theme for your campaign.
How to Use Light Boxes in Your Trade Show Booth
When you need to make a big impact, light boxes can illuminate your exhibit, feature special promotions, and increase traffic to your location. You can choose from:
Wall displays: The connectors are installed directly on the booth wall. The frame completely covers the mounting brackets so that only your fabric graphics show.
Floor standalone displays: Lightweight, easy to install, and customizable to your brand, floor standalone displays are a perfect way to create frameless graphics.
Other Ways to Bring Light to Your Booth
LED skins from beMatrix offer next-generation technology you can harness to make your booth pop. A blank wall serves as the backdrop for high-definition videos streaming your brand message and other impactful content. As part of your booth design, consider adding other types of lighting such as track lighting to illuminate panels, walls, and products.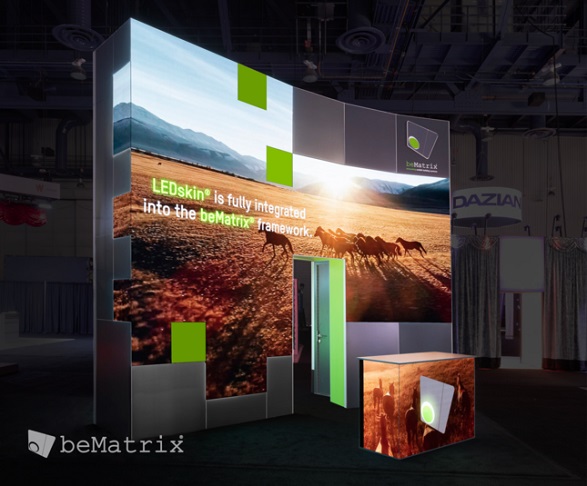 Image source: beMatrix Booth with LEDskin, LDI 2019, beMatrix USA
Smart lighting solutions create just the right atmosphere and provide general lighting functionality. Design your lighting to make the most of your large or small booth and generate interest at trade shows. Besides conventional track lighting, beMatrix lighting includes SAM lights ideal for booths and kiosks of varying sizes.
Conclusion
Memorable trade show booths feature extraordinary designs and colorful graphics that capture the imagination of participants. You can use wall-mounted and standalone light box displays to cement your brand identity into the minds of showgoers.
An extraordinary backlit trade show display infuses your graphics with light and life and creates an indelible impression on your target audience.
As beMatrix USA's strategic rental partner in Canada, Hunter Expositions can help bring your trade show booth to life with light boxes and other types of lighting. We have many years of experience in creating, selling, and renting custom trade show booths. Contact us to learn more about our products and services.