Museum Quality Display Case Specifications: What You Need to Know
Why choose museum-quality display cases for your exhibit? Museum display cases are more than acrylic or glass enclosures showcasing artifacts, products, or collections. The greater degree of refinement in design and construction allows for improved presentation quality, longer preservation, and better protection of the exhibit.
Each museum-quality display case has its own unique features and specifications that will allow you to maximize the display and protection of the exhibit.
The 5 Characteristics of Museum-Quality Display Cabinets
To be considered a museum-quality display case, a cabinet must be able to perform certain functions essential to the exhibition, conservation and security of the exhibited objects. There are five main characteristics of museum-quality display cases: conservation, security, environment, design and size.
1. Conservation
Construction material selection should focus on conserving the contents of a display case. Museum quality display case specifications must consider long-term exposure to volatile vapors and chemicals that can damage important assets. Inexpensive materials often include melamine or particleboard as well as high-VOC paint. That's why it's so important to get a high-quality display case, using emission-free materials only, to preserve exhibited pieces.
2. Security
In a museum, access doors are open to visitors and guests. This provides access to locks and presents a security vulnerability. Requiring multiple locks to open simultaneously and including locks that lie flush to the surface reduces risk and doesn't detract from the overall aesthetics of the case. Whether the lock is an own system or a classic Abloy, the fact that they usually are very well concealed makes potential thefts much more complicated.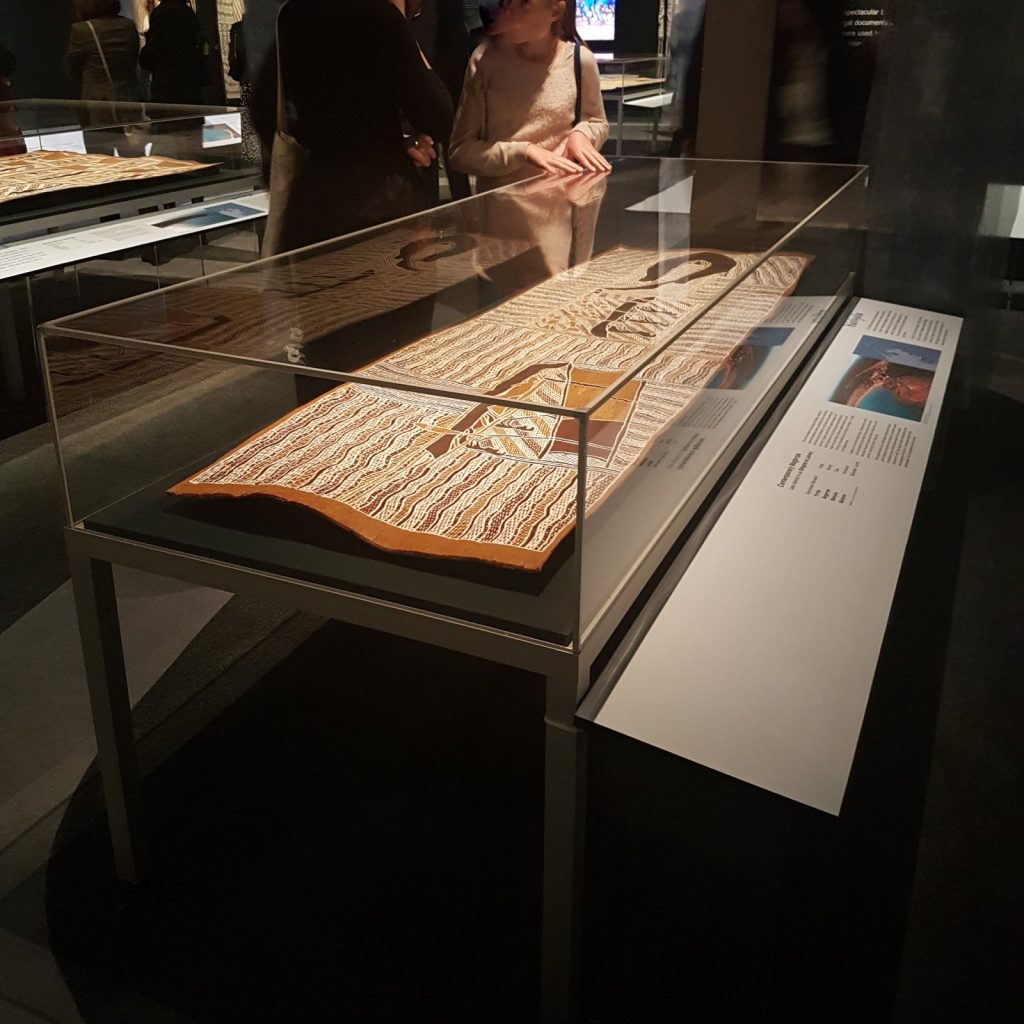 Image: Frank Showcase Systems – Australian National Maritime Museum in Sydney
3. Environment
Display case specifications must take air circulation and environmental control into account. The air exchange rate (AER) is very important to preserve the treasures of a museum. Archival quality storage requires sound materials free of chemicals that can damage contents. Including gaskets and utilizing proven building techniques helps to reduce air exchange inside the display case to the minimum.
Moreover, display cases require more and more "standard" passive climate control to regulate the current humidity inside the case. Often, this is a desiccant drawer unit that is accessible outside the case, without needing to open the case where the artifacts are.
4. Design
The best designs balance clarity and preservation to achieve museum-quality display case specifications. For example, minimalistic designs make museum-ready cases strong and durable and serve as exquisite solutions for display dilemmas.
5. Size
Whether you have small objects, such as ceramic fragments, or large pieces, such as vases and historical clothing, you need a display case that meets your needs. Retail fabricators do not have the skills or knowledge needed to design and build cases that are large and complex. Therefore, you should choose a company well-equipped and experienced in designing and meeting museum-quality display case specifications.
Key Elements of Display Cases Specifications
Display cases come in different sizes and configurations with standard features but can also be upgraded with various options. The choice is then influenced by the type of objects to protect and the budget.
Here are some of the most common specifications of museum display cases that you will have to consider when selecting your display cases.
A) Types
There are several types of quality display cases suitable for museum exhibitions. Among the most common are the four following options that offer many design and display possibilities.
Wall Display Cases
Use them to store and show exquisite historical documents and paintings or a variety of similar small items that do not require a 360-degree view. Other possibilities include displaying paper items that require climate control.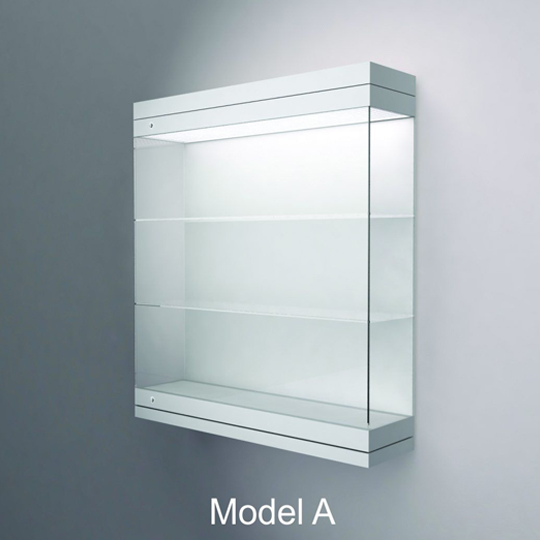 Table Display Cases
Table display cases are perfect to showcase ancient books and scrolls. They are also useful to display groupings of small artifacts telling a similar story and requiring a closer look. This type of display offers several base options including legs, full side panels, columnar base, full base, and drawers.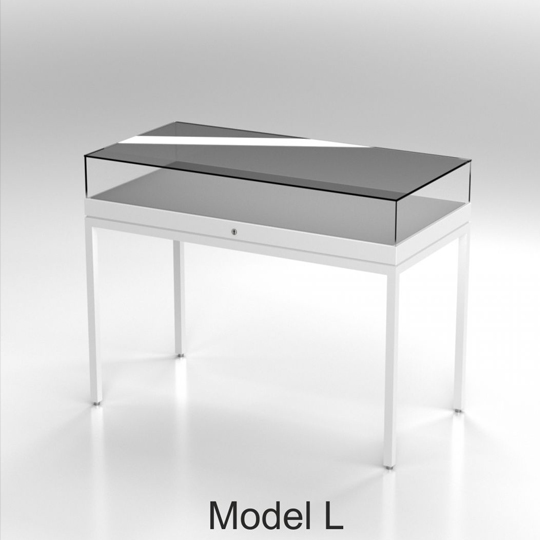 Column Display Cases
Similar to table display cases but narrower, column display cases are perfect when you have smaller items you wish to display at eye level. They normally consist of thick glass panels with polished edges that provide 360-degree visibility.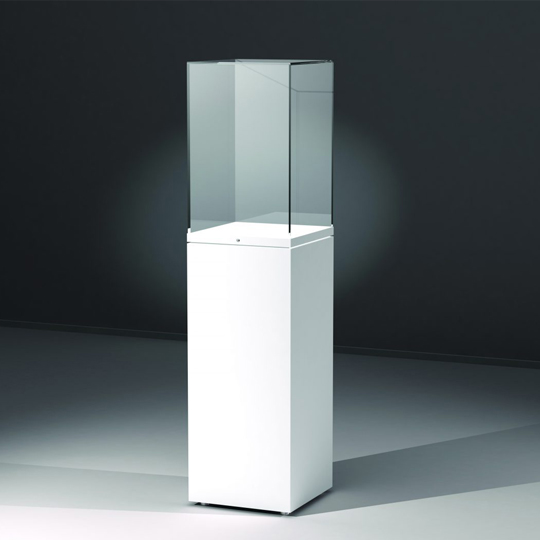 Freestanding Display Cases
Freestanding display cases offer maximum visibility thanks to their 360° view. They are often equipped with shelves or an internal pedestal and are available in different sizes. They are perfect for displaying the main pieces of an exhibition such as amazing ceramics and figurines as well as antique toys and objects.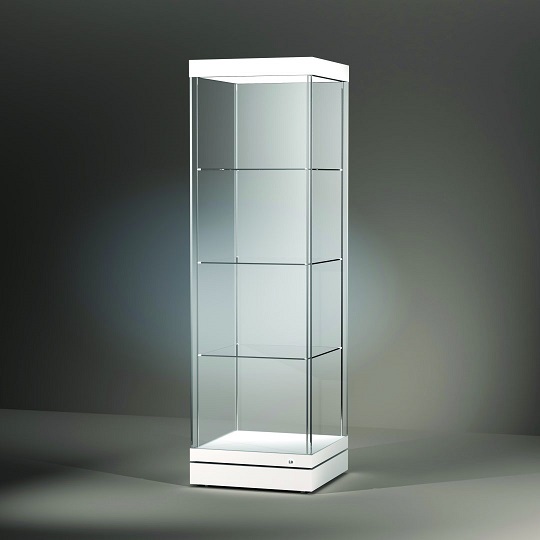 Showcase display cases are a type of freestanding display case, but on a larger scale and without shelves. They are often used to display the centerpieces of an exhibit such as vintage clothing and uniforms displayed on mannequins or not. They can also be used to display larger objects.
B) Glazing
A museum-quality display case will allow an unobstructed view of the objects with glass featuring beveled and polished edges. Most of the glass used in museum display cases is laminated extra clear/low-iron (for more transparency). The thickness of the glass will vary depending on the position in which it is placed, with horizontal glass requiring a greater thickness for additional safety.
Depending on the manufacturer, the glass can be offered in different types: laminated safety glass, tempered safety glass, low iron/extra clear glass, anti-reflective glass and annealed glass. Some manufacturers might also offer acrylic glazing.
C) Opening
Depending on the type of display cases chosen, the glass will be hinged, piston hinged or simply hand-lifted. Sliding doors and glass mounted on an electric lift system or on gas-pressure springs are all available options.
D) Lighting
Most display cases do not come with an integrated lighting system. It will be up to you to choose between LED lighting or fiber optics lighting. Other lighting methods as flexible light tubes, halogen or fluorescent lighting are outdated.
E) Finishes
Most display cases will be offered in off-white or black as standard. However, some manufacturers can provide color customization based on a nonproprietary color system such as RAL. If required, the trays used to display the items can also be painted in a custom color or covered with fabric. Wood veneer covering is another finishing option often offered.
F) Locks and Alarm
Museum display cases should ideally come with a double lock system or a robust locking system. For added security and depending on the object to be protected, you may choose to add an integrated alarm system.
G) Climate Control
Consider the climate control option for exhibited items that contain material that can deteriorate when exposed to air. This includes documents, clothing, and even metal objects. Microclimate display cases provide airtight enclosures that let you adjust the size, thermal capacity, and airtightness to achieve the perfect microclimate setting.
Choosing Between Acrylic or Glass Display Cases
The display cases are available with glass and acrylic glazing. Read on to better understand the differences between the two and make an informed choice.
Why Choose Glass for Your Museum-Quality Display Case?
A top-notch museum-quality glass case may last up to 25 years or more. Here are some of the advantages of choosing glass over acrylic and other materials:
Strength: Glass has higher tensile strength than acrylic. This makes it more self-supporting, resulting in less flexing and bowing where gaskets press against the panes.
Larger size: Glass is available in taller, bigger, and wider sizes than acrylic.
Better security: Laminated safety glass looks stronger, especially in large dimensions than acrylic and blocks UV rays. When broken, it remains intact due to inner foils that support the glass.
Better hinges: When you need large-hinged doors, glass makes a better choice than acrylic.
Why Choose Acrylic for Your Museum-Quality Display Case?
Acrylic also has unique advantages in comparison to glass display cabinets, including the following:
Lower cost: Acrylic is cheaper to make and maintain than glass, making it ideal for a limited budget.
Weight: Acrylic is half the weight of glass and therefore easier to handle.
Faster lead time: Acrylic display cases are typically faster to make than glass ones.
Better in an emergency: Since they are easier to replace, acrylic cases have an advantage over glass in case of an emergency or rushed installation. A replacement can be done by the museum staff itself and doesn't require an installation team from the manufacturer.
Conclusion
Available in glass and acrylic, display cases preserve contents and help you create beautiful exhibits that stand the test of time and are admired by visitors and customers. However, they must be chosen carefully to best suit your exhibition needs and budget. From display case types to options such as lighting, there are many museum-quality display case specifications to consider.
Hunter Expositions offers many solutions for museums and galleries including museum quality display cases, a modular wall system and a moveable wall system. Contact our experts to find the products and solutions that will perfectly suit your needs.